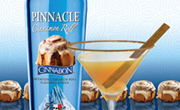 Stop me if this sounds familiar. Your CEO is hounding you to stretch your marketing budget. His boss — the board of directors — is getting pressure about cutting costs and boosting revenue. Have you heard this before?
As a chief marketing officer, you know all too well how every dollar you spend is scrutinized. Thankfully, a solution exists. Not only will it add cash value; it'll also penetrate new markets and… it won't cost you anything.
Let me introduce you to the world of licensing. Licensing allows a third party to leverage the equity in your brand to sell noncompeting products. Licensed products conjure up powerful associations that can sway consumers into purchasing what they perceive as an extension of a familiar brand.