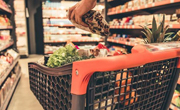 How TGI Fridays, California Pizza Kitchen and Dunkin' Donuts added significant revenue streams
Jane is a mother of three. She's responsible for grocery shopping in her household. Since it's Taco Tuesday, her shopping cart practically rolls itself into aisle seven — the Mexican aisle. Unfortunately, her main choices have been the same for years: Old El Paso and Ortego. The food is good, but uninspiring.
On one hand, most restaurant chains may see this situation and ask, "How do we get Jane into our restaurants?" But some chains see this situation and ask, "How do we get our restaurants in front of Jane?"
The smart guys recognize that Jane isn't coming to them — they need to go to her. They recognize that the supermarket is where Jane spends her time. It's convenient, her favorite cashier always accepts her coupons and she knows the floor plan by heart.