How Nordstrom, Macy's, And Calvin Klein Are Making A Killing Even As Retail Is Crumbling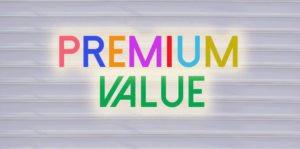 When I was young, when you got your driver's license, your parents took you to the local dealership and bought you a used car. And that's if you were lucky. Today, no one buys a "used" anything, which just sounds cheap. Instead, thanks to Madison Avenue, everyone gets treated to a "certified, pre-owned" vehicle.
Linguistic rebrandings like this have been so successful that they now permeate every industry. For example, say you're at a restaurant and see "Patagonian toothfish" on the menu. Surely you'd be repulsed, which is why chefs have rechristened this cod "Chilean sea bass." Yum, yum!  Ditto for "junk bonds," which we now know as "high-yield bonds," and "taxes," which has been transformed into "revenue enhancements." Marketers use such semantics not to deceive, but to emphasize a larger or more specific truth.
 Today, I'd like to submit another rebranding to the collective consciousness — a retail channel that every manufacturer is asking about and (almost) every brand owner is misinformed about. This subject is especially dear to me, since the agency I run specializes in finding new channels of distribution for brands, thus helping them gain new customers.
If you've ever shopped at stores like Burlington, Home Goods, Nordstrom Rack, Marshalls, T.J. Maxx or Ross, you've been drawn into the off-price market. It's dubbed "off-price" because the merchandise here is generally 20-60% below what you'd pay elsewhere.
 Yet focusing on price is a losing proposition. As the best salespeople know, it's more profitable to focus on value. In this case, we ought to focus on the fact that you can buy expensive goods at inexpensive prices. Thus, the rebranding: Instead of calling the above chains "off-price," we ought to refer to them as "premium value." In this light, retailers can begin to appreciate how lucrative this market can be. No longer a dumping ground or a graveyard, premium-value stores can help you leapfrog your competitors in a way that other strategies can only dream of.
The Two Elephants In The Room
If you've followed my other articles, you know that this is the point where I like to address counterarguments. I've worked in this field for so long, I can already see the objections forming on the lips of the CMO: "So-called premium-value is really the place where merchandise goes to die — on the clearance rack in a clearance store. Doesn't placing my high-quality goods in a cheap environment devalue my brand?"
Nope, not even a little. For one, consumers have long been trained to find treasures at a discount. (I'm lucky that my daughters like to shop this way.) Done in moderation, discounts are additive, not dilutive. What's more, stores like Marshalls and T.J. Maxx know better than to dump your wares into the messy must-go bin. Instead, the whole store is suffused with name brands like Cuisinart, Michael Kors and Elie Tahari. (By the way, the real dumping grounds are closeout stores like Big Lots and 99 Cents Only stores.)
"But c'mon," the CMO says. "Everything I read these days says that we're in a retail apocalypse." As the business writer Daniel Gross recently observed, "Brick-and-mortar chains are losing market share to e-commerce. Big box and mall-based stores are suffering from declines in foot traffic."
Let's not mince words: Retail is rough. The CMO is right about that. But here's the thing: Look closely at the data, and you'll see that the premium-value market is thriving. While mid-tier and department stores are consolidating, their premium-value cousins are growing. Consider these statistics, courtesy of retail reporter Laura Klepacki: Nordstrom now has more Nordstrom Racks than full-line stores. And not just by a little, but by a whopping 75% (215 to 123).
Similarly, even as Macy's is shuttering its big boxes and building out its smaller, premium-value stores, called Backstage. In 2015, these pop-up stores numbered six. In 2016, they zoomed up to 22. And in 2017, Macy's is aiming to open another 45.
Finally, there's Calvin Klein. While CK still derives cachet from its displays in Bloomingdale's, more than half of its sales now derive from the racks at Burlington, T.J. Maxx and other value-driven outlets.
Indeed, Calvin's success is in large part the story of premium-value writ large: The company is a master at licensing out its brand. Specifically, its high-end clothes are made by the mothership, but its money-makers like fragrances, accessories and bedding are made by third-party licensees. (Don't tell my girls.)
The bottom line: For many of America's top retailers, it's the premium-value market that's paying the bills these days.
'I'd Like To Pay Sticker Price,' Said No One Ever
Let's be honest: Nobody likes to pay full price — not even the super rich. Everyone likes a deal. But equally important, people don't just want bargains; they crave value. This is the genius of premium-value merchants: They're offering Mercedes for the price of Mazdas, strip sirloin for those on a Whopper budget.
Now that the secret is out, the only question is whether your brand will profit from it or watch the pitch pass you by.
Jeff Lotman
Founder and CEO, Global Icons
As seen on Forbes:
https://www.forbes.com/sites/forbesagencycouncil/2017/10/11/off-price-more-like-premium-value-the-importance-of-reframing-semantics-in-marketing/#2b62517f39d1