GLOBAL ICONS TO REPRESENT KINDER SURPRISE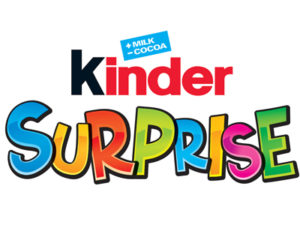 LONDON, UK (March, 2017) – Industry-leading brand licensing agency, Global Icons LLC, recently announced its new worldwide representation agreement with Kinder Surprise, owned by the family-owned Italian confectionary manufacturer Ferrero Group.
Kinder is the number 1 European brand within the food markets and number 37 within FMCG, and thanks to this worldwide success, has gone on to develop a master umbrella of brands, with a range of innovative products to include Kinder Surprise. Born in 1974, Kinder Surprise expressed 3 key elements for a unique product experience – the taste of Kinder chocolate, the fun of a toy, and the value of a surprise. Kinder Surprise is now available in more than 70 countries.
Global Icons will create a unique and wide-reaching programme, which will target some key categories including apparel, sports, stationery & back-to-school, children's bedroom storage, luggage & bags, and gifting & gadgets, excluding Food and Beverage.
Through its licensing programme, Kinder Surprise aims to deliver products that reflect the joy, pleasure, trust and taste experience of the brand, whilst taking into consideration the unique and powerful brand heritage.
David Williams, General Manager at Global Icons Europe Ltd. stated, "Our agency is delighted to partner with this exciting brand and deliver a premium brand experience, by introducing new consumer touch points, whilst maintaining and leveraging the Surprise element and the quality of Kinder Surprise. It will be our priority to target prospective licensees that can supply products that reflect the brand's values. The key products targeted are apparel, bags and luggage, bedroom storage & stationery/back-to-school, for kids. But we foresee great results particularly in the outdoor sports space".
About Ferrero
Ferrero is a global company privately owned by the Ferrero family. The company has grown from a small Italian confectionery shop founded in 1946 creating appealing products from local hazelnuts in its hometown Alba, to become the 3rd largest confectionery manufacturer in the world. It produces famous market-leading brands such as Nutella®, Tic Tac®, Ferrero Rocher®, Raffaello®, Kinder Surprise® and Kinder Bueno®.
Ferrero has around 40,721 collaborators, 78 consolidated subsidiaries, including 22 production plants around the world, of which 3 are Michele Ferrero Entrepreneurial Projects in Africa and Asia, and 6 agricultural companies in Chile, Argentina, Georgia, South Africa, Australia and Serbia.