Vespa Footwear: brand licensing by design
posted in news on 2/11/17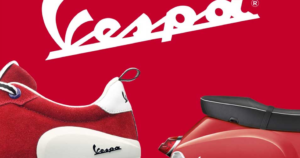 Amongst the new licensed projects spotted at the latest Pitti Uomo edition, Vespa Footwear, licensed to Br-Ex, the same company which launched Pantone Footwear range some months ago, was probably one of the smartest.
Piaggio is no mainstream licensor, especially on its jewel brand Vespa, a global icon which deserves a careful treatment in product development and partners' selection. Easy to fall on superficial vintage moods, Vespa branded products must be timeless but contemporary, classy but vibrant, expressive and distinctive.
We believe that Vespa Footwear range, has got it all. The iconic round flank is a smart quote on the shoes sides, while the colors and the shapes are truly inspired by the contemporary range of scooter.
A smart price positioning, in the high tier but not prohibitive, is the final touch which generated the enthusiasm we saw speaking with international distributors and buyers at Br-Ex booth.
http://www.brandjam.it/vespa-footwear-brand-licensing-by-design/?lang=en