Hostess Brands, LLC Selects Global Icons to Expand its Presence Through Innovative Licensing Deals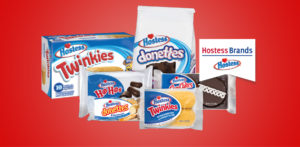 LOS ANGELES (January, 2018) – Leading brand licensing agency Global Icons is pleased to announce its exclusive representation agreement with Hostess Brands, LLC, the iconic baked goods brand, cherished by generations, which produces beloved treats such as Hostess® Twinkies®, CupCakes, Ding Dongs®, Ho Hos®, and Donettes®.
Global Icons will expand the brand's signature indulgences into new product offerings that will allow consumers to enjoy and interact with these classic products in new and exciting ways. Global will look for licensing partnerships in both the food and non-food sectors.
"Global Icons is thrilled to be working with a company like Hostess. Their brands are highly extendable, with a rich history and unique flavor profiles. These are variables we look for to implement a successful licensing program for our clients." says Jeff Lotman, CEO of Global Icons.
"Hostess fans are some of the most passionate consumers in the sector, with an enthusiasm that cannot be contained. We look forward to diversifying the ways in which they can delight in and interact with the brand," said Burke Raine, Hostess Brands' Senior Vice President and Chief Marketing Officer. "As Hostess continues to expand and innovate, this partnership with Global Icons is an ideal match."
 About Hostess Brands, LLC:
An icon of American ingenuity, Hostess® treats have been some of the world's best known sweet baked goods for nearly a century. The category pioneer continues to lead the way in innovation, quality and creativity that captures the imagination of snack cake enthusiasts generation after generation.
Hostess Brands, LLC is headquartered in Kansas City, Missouri, and operates bakeries in Emporia, Kansas, Columbus, Georgia and Indianapolis, Indiana. For more information about Hostess products and Hostess Brands, LLC, please visit hostesscakes.com. Follow Hostess on Twitter: @Hostess_Snacks; on Facebook: facebook.com/Hostess; on Instagram: Hostess_Snacks; and on Pinterest: pinterest.com/hostesscakes.